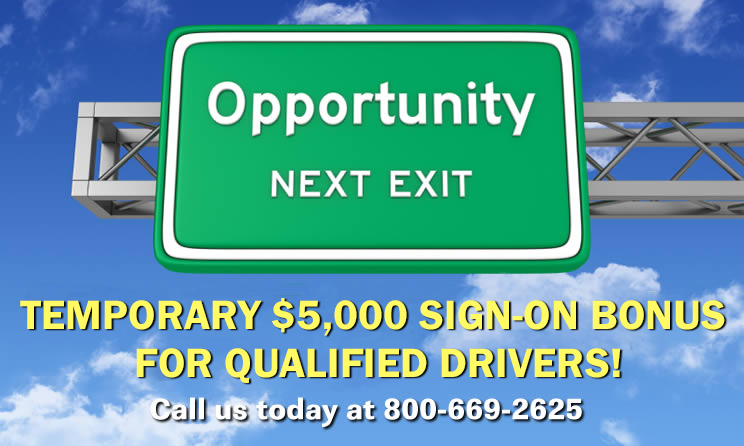 JK Hackl believes we are driven to be the best by the best. That is what we are looking for, and that is what we are willing to pay for. Our goal is to cultivate a team of drivers that are the best in the industry.
Our requirements are: 3 years of flatbed experience in the last five years: All drivers must be 25 years or older; no major moving violations in the last 3 years; depending on where you live, the ability to stay out 3-5 weeks.
Should you make the choice to join us, here is what you can expect during orientation. We'll pay for your transportation here, put you up in a local hotel and give you access to a company vehicle. Orientation will take 1-3 days depending on how long the results of the drug test take. During that time you will meet with safety, dispatch, and the shop manager. We understand that you can't bring everything you need in a truck with you and that is why we will get you a load through your house as soon as possible so that you can be comfortable while on the road.
We know that getting you to join our team is only half the battle. That is why all of us are dedicated to making sure that any issue that arises will be handled swiftly and fairly. Our open door policy is to make sure that you feel comfortable talking to us about anything. Our Job is not just to provide a service for our customers, but to create a place where we all succeed as individuals and as a company. Your input is vital in helping us all improve.
As an experienced professional driver you take pride in the work you do, it's time to drive with a company that takes as much pride. We really do believe in acquiring the best; if that's you please fill out an application today!
Pay:
First year starting: 67 cents per mile (includes .08 per diem) pay progresses as seniority grows.
150 for first tarp, 75 on additional picks that require tarps. 
50 dollars for extra picks and drops
100 for NYC proper and Long Island
150 for holiday pay if you are on the road… (Memorial day,  4th of July, Labor day, Thanksgiving, Christmas, and New Years)
100 for crossing Canadian border, 150 for shuttling a load across the border
Quarterly $150 low idle bonus
Quarterly $150 no CSA points bonus
Annual safety bonus:

1-2 years 400
3-4 years 800
5+ 1200 Dollars

75 Lay over pay if no load and unloaded before noon.
75 lay over if waiting overnight for LTL.
50 detach or stretch pay
Monthly Mileage bonus.
Perks:
Paid vacation (newly expanded so that you can enjoy more home time)
Rider policy
Pet Policy
Pre Pass Plus
Late model Peterbilts
Company provided Dental insurance
Employee Cancer Insurance
Company provided Preventative healthcare insurance
Employee health supplemental plan
Company provided Vision insurance
Employee based 401K
Employee Disability insurance
Direct deposit
Qualcomm
Fill out an online application or get a pdf application below
Online Application
-or-
Get The Pdf Application